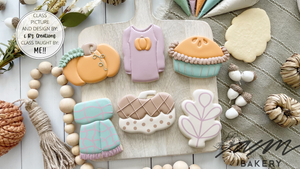 Repeat the class from the comfort of your own home or have friends over if you're taking the class virtually!

Class Kits are an exact replica of your class set - except you can take them home to decorate with the kids, friends, or family! We'll provide you with the class PowerPoint so you can play "bakery teacher" for an afternoon too!
The only thing not included in the kits is a metal scribe - however, wooden scribes are supplied and work just as well! You'll pick-up your kit after your in-person class. Your kit will be ready for pickup the day of your class - just grab it on your way out! The photo here is just an example of a class kit. Your kit will match your class's theme!